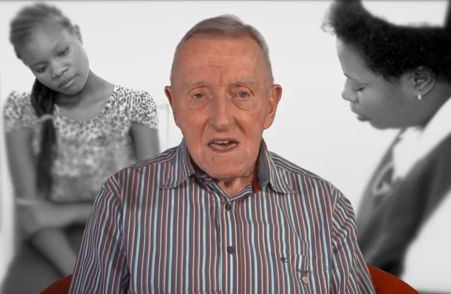 Father Michael Kelly

For over 50 years, Tullamore-born Professor Father Michael J. Kelly has worked tirelessly in the fight against HIV/AIDS in his naturalised country of Zambia, and internationally, spreading the message of strength, dignity, and hope for those affected and at risk.
He worked for many years as headmaster of Canislius College in Chiseki in Zambia.
Father Michael completed his PhD studies in the area of child and educational psychology in 1974 and subsequently became a senior lecturer and Dean of the School of Education in the University of Zambia (UNZA), in 1975. He served as pro-vice chancellor and deputy vice chancellor and became professor in 1989.
He is a renowned speaker and advocate on HIV and AIDS, and has worked tirelessly to educate and promote safe behaviour among youth and those most at risk in Zambia, throughout sub-Saharan Africa, and much further afield. He is also active in other policy areas, such as strategies for HIV prevention, and human rights. A prolific researcher and writer, Father Michael has authored 15 books, and many original research articles. Throughout his long and distinguished career, Father Michael has worked as a consultant to organisations such as the World Bank, UNESCO, UNICEF, the FAO, UNAIDS, Oxfam, Irish Aid, and many more.
Among the many honours in recognition of his outstanding work, Father Michael was awarded Honorary Degrees by University College Dublin in 2006 and the Royal College of Surgeons in Ireland (RCSI) in 2012. He was honoured for his work on HIV and AIDS by the Minister of State at the Department of Foreign and Trade.
He recently received the Order of Distinguished Service Award from President Lungu of Zambia, in recognition of his contributions to the promotion of education, social justice and HIV/AIDs.