Shaun Mellors is a well-known international activist, co-Founder of the Global Network of People Living with HIV/AIDS (GNP+), and former Board Member for the Communities Delegation to the Global Fund to Fight AIDS, TB and Malaria. Originally from South Africa, Shaun has been openly living with HIV for over thirty years, and is a passionate human rights advocate. He currently holds the role of Director of Knowledge & Influence at the International HIV/AIDS Alliance.
Please click below to watch Shaun's address in full, preceded by a brief introduction by Nicola Brennan, Head of Policy at Irish Aid. Please also scroll down to read the transcript of Shaun's address, and to download his presentation slides.
Shaun's presentation: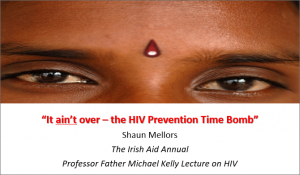 Shaun Mellors, Dublin, Ireland, December 2016
He remembers the day well. 24 December 1986. He even remembers the time because it screamed at him from a big white face clock with black hands and numbers. It was in the hospital formerly known as Johannesburg General Hospital. He had just turned 21 and had a summer student job working for a supermarket chain.  He collapsed at work and was rushed to the casualty department. A short doctor, with a sweet-smelling perfume, came in and asked him his name and age. She asked him a few questions about swollen glands, diarrhoea, weight loss. And then she asked "Are you homosexual?" He saw it as an opportunity to claim his sexual orientation, to "come out" and he stammered y-y-yes, I am g-g-g-a-ay he proudly but shyly responded. She left the cubicle and he heard whispered voices behind the curtain. A few minutes later she came back, mask across her face, surgical gown covering her jeans and jacket, gloves on her hands "Young man", she mumbled from behind the mask, "I think you have AIDS and about six months left to live. And with those few words his entire world changed in an instant. Fear, shame, isolation, rejection, loneliness, shock, fear.  The clock showed 16h10.
Back then I was referred to and treated as an AIDS victim and AIDS Patient. Admitted into a ward in complete isolation, with biohazard stickers on the door. Two black plastic bags taped to the wall – one for my dirty linen and one for my used paper plates and cutlery. The volunteer choir who sang Christmas Carols on the ward, hauntingly reassuring and comforting – even though their voices only drifted in through the closed door of my isolation ward.  There were no titles or definitions of key populations, MSM, young people, adolescents living with HIV – just AIDS victims and patients.
That was thirty years ago, almost to the day. It does boggle my mind that my virus is older than certain speakers on the panel and older than some people in the audience. It boggles my mind that I have been living with HIV for longer than what I have been living without, and that I have been on HIV treatment for the last 20 of the 30 years. My entire adult life has been about HIV in so many different ways. Exploring career, starting relationships, making life decisions, experiencing life from and through the lens of HIV – often accompanied by stigma. And yes, now I am aging with HIV too.
My journey with HIV has been varied, challenging and rewarding. In many ways, I have been fortunate and privileged. Able to claim agency and find voice where there was none, a resilient and reflective personality allowing me to grow and develop along this journey, an ability to express identity, access support and utilise services and, when they were not available, to fight for them. I have also for the most part been able to count on the support and love of family, friends and community. It ain't over!
We have fortunately become a lot smarter about why, how and when we respond to HIV but there is limited cause for celebration and little reason to think that we will see the end of AIDS by 2030. We are becoming lethargic and taking things for granted. The rhetoric of ending AIDS is dangerous and inaccurate and whilst catchy slogans and phrases have an important role in creating awareness and mobilising communities it is simply not enough and not good enough.
We have seen 600,000 people die of AIDS related illness since the International AIDS Conference in Durban in July of this year. There are still two million new HIV infections a year globally and a staggering twenty million additional people still require antiretroviral treatment in the next five years to avoid death. It ain't over!
When we talk about "Hands Up For #HIVPrevention", what exactly does this mean, and what do you and I need to do about it? We all have a responsibility to ensure that we get HIV prevention back on the agenda.
The UN General Assembly "agreed" to ending AIDS by 2030 but in order to do they developed what they call a fast track strategy. Ending AIDS by 2030, let me repeat that, Ending AIDS by 2030 – this in and of itself is incredibly promising, can you imagine being able to tell your children or grandchildren, that we were the generation to end HIV. If ever there was an opportunity to have a long-lasting impact on the HIV epidemic, it is now.
The irony however is that this opportunity of truly having an impact on ending AIDS is being interpreted as "AIDS is over" and we can change our focus, invest elsewhere find other priorities. When was the last time you saw an HIV Prevention Campaign in your community or on TV?
Part of what UNAIDS calls the fast track strategy focuses on achieving three milestones by 2020: Reduce new HIV infections to fewer than 500,000 globally; Reduce AIDS related deaths to fewer than 500,000; Eliminate HIV related stigma and discrimination.
This may sound very simple and straightforward, but we know it does not take into account the complexities of the HIV epidemic. Whilst the 2016 UNAIDS Prevention Gap Report describes some successes in relation to HIV Prevention efforts, there are still a number of alarming messages that we have to pay urgent attention to. Declines in new HIV infections amongst adults has slowed and efforts to reach fewer than 500,000 new infections by 2020 are already off track. 40% of people living with HIV still do not know of their HIV status (1 in 7 in Europe), so clearly they are not able to access the appropriate services, support and treatment that they may need and almost two thirds of people living with HIV are not virally suppressed. If a person with HIV is virally supressed (so the virus is under control), the chances of transmitting HIV are close to zero. So it makes sense to support people with HIV to access good quality treatment literacy and support in order to achieve and sustain viral load suppression – as this also improves our quality of life. I have been virally suppressed since starting treatment in 2006, long before we knew and understood the benefits of treatment as prevention. The irony was and is that I am still seen as a vector of disease by many.
HIV is a complex disease, but so are the challenges related to the reasons why we are struggling with HIV Prevention.
There remains a poor targeting of HIV prevention services – the wrong people in the wrong places – or even if on target, simply failing to reach them.
A continued under-investment in HIV prevention.
A lack of global leadership around HIV response in general but HIV prevention in particular.
Let me explore some of these areas in greater details, because it ain't over!
So what is the data or the evidence telling us? Our systems and structures continue to exclude people because of harmful cultural, social and gender norms, criminalising identities and behaviours and restrictive laws, policies and practices. Far too many key populations – sex workers, people who use drugs, trans diverse populations and gay men and other men who have sex with men – are still being left behind when it comes to being able to access information, commodities and services to protect them from HIV. The evidence is telling us that key populations are at a much higher risk of contracting HIV.
Sex workers are 10 times more likely to acquire HIV and gay men and other men who have sex with men are 24 times more likely to acquire HIV infection than adults in the general population. People who inject drugs are 24 times more likely and trans diverse individuals are a staggering 49 times more likely to be living with HIV. So how can we say that we are close to ending AIDS?
New HIV infections among key populations and their sexual partners accounted for 36% of all new HIV infections in 2015. Throughout the world, and especially in low income countries, people from key populations face stigma, discrimination and violence, in their communities. Friends, these statistics are about people – people in your community, town or village. (Europe registered the highest number of new HIV cases in a single year in 2015.)
Think back to the time when you were a young person. (Many of you are still in that time). I remember it as an incredibly exciting time where I had a belief that I could do anything or achieve anything. But it was also a very difficult and confusing time for me as the world had a certain idea of who I should be and how I should behave. Admittedly I tried to conform to these ideas, because I knew what I felt about myself was different, but I also knew that what I felt my peers teased, mocked and ridiculed in others.  I was confused about my sexuality and knew very little about the birds and the bees as we did not have sexuality education at school.
I was soon to be enticed by the crazy world of student life. I was exposed to the big city lifestyle, where sexual expression and identity was an essential part of university life. I enjoyed and explored this new exciting world with great gusto and excitement as it was during my first year at University that I finally came out to myself as gay, I started the process of claiming my identity. It was not long after that I received my HIV diagnosis.
Early childhood and adolescence are critical periods for personal autonomy and establishing life-long health behaviours. Peer pressure, greater expression of gender norms, sexuality and resulting inclusion/exclusion from society dramatically shape vulnerability to HIV. We know that young people have been neglected in the response to global health generally but the most marginalised young people (especially LGBT adolescents, adolescents who sell sex and adolescents who use drugs) are at much higher risk of HIV infection. Many adolescents face discrimination, human rights violations, and are excluded from services they desperately need and struggle to access. We know that in many instances adolescents are not able to seek or access services without the consent of a parent or guardian. Laws that require third party authorisation or that criminalise consensual sexual behaviours exclude people from the health information and services they need.
AIDS is the leading cause of death among adolescents aged 10–14 in Africa and the second most common cause of death among adolescents globally. How can we say that we are ending AIDS when this is the reality for many?
We have enough data to know that we are not reducing new HIV infections fast enough. This is not the picture of an epidemic heading towards the end of AIDS but one that is threatening to get out of control again.
Funding for HIV, particularly through Overseas Development Assistance (or ODA) reached its highest levels in 2014 (8.6 billion). However now for the first time we have seen an actual drop in ODA funding for HIV – not a rumour, but a fact. Whilst the Global Fund many could argue has had a successful replenishment (And Irish AID needs to be thanked for its ongoing support and commitment to the Global Fund – both in terms of your relative financial contribution but also engagement in strategic and policy discussions), there has been a reduction in ODA funding for HIV. While many have been predicting this funding drop for a long time, it is only now that we are seeing a reduction in HIV funding from ODA donors after several years of sustained funding levels.
Alarmingly HIV prevention for key populations in low and middle income countries accounted for less than 2% of total HIV resources or around 9% of the resources for prevention.  Surely there is something wrong with the calculations when key populations account for 36% of new HIV infections but only 9% of resources are allocated for prevention amongst these groups?
The global response is facing a crisis of leadership. UNAIDS (the United Nations agency responsible for coordinating the global HIV response) in many ways has failed to provide courageous and strategic leadership in terms of ensuring that HIV not only remained on the agenda. The fact that we have only achieved a reduction in HIV incidence of about 1% per year (in other words an 8% reduction since 2008, far lower than the anticipated 50% reduction between 2015-2020) I think should have resulted in UNAIDS shouting from the rooftops that we are #FailingAtHIVPrevention. Their engagement in key political and policy discussions, particularly UNGASS has been dismal and has let many key populations feel let down by the organisation.
But leadership is also required from you and me. We are required to keep the discussions around HIV going, ensure that we find creative and innovative ways in which we not only keep HIV on the agenda within our community, family, schools and circle of friends but ensure that we understand the personal impact of HIV.
So how do we get HIV prevention back on track? How do you and I ensure that our efforts contribute to fewer HIV infections? We can do this by supporting and empowering new leaders, particularly those from key populations. Young, creative and inspirational leaders who know what it means to be treated with paternalism by an AIDS response mainly benefitting adults. Well we all need to know our status.
We need to ensure that our prevention responses are rooted within a combination prevention approach which is person centred and takes into account structural, behavioural and biomedical interventions.
Combination prevention includes comprehensive sexuality education and access to sexual and reproductive health and rights services; evidence-informed and rights based prevention programmes for key populations including dedicated services, community mobilisation, empowerment and appropriate financial investment.
The epidemic among the most marginalised young people (and key populations) requires us to recognise and respond to diverse realities and ensure that young people (and other key populations) have access to appropriate, comprehensive HIV and SRHR services in safe and protected environments.
We need to work with the communities in which they live, promoting dialogue between young people and their parents, carers and teachers, helping adults better understand the preferences and needs of adolescents affected by HIV.
We need to sensitise wider society and gatekeepers on the rights of young people and how they can better support the growing autonomy of their children and young people and respect their diversity.
We need to work with service providers to understand the development of adolescents and define specific service packages and interventions that are sensitive to their needs and stage of development.
We need to provide service providers with training on difficult issues such as gender, sexuality, and rights, and on how to deliver confidential and non-judgmental services to keep young people engaged in services and in their health.
In a changing financial and political world we desperately need to see bold and courageous political leadership and voice which helps to keep HIV on the agenda and ensures that the incredible gains made over the last 30 years in investing in communities and community based responses is not lost or wasted.
We need to work with donors to ensure that we help them strengthen arguments and rationale for why HIV is still a priority. We need you, the public, to engage with your politicians and remind them that HIV is not over and if we are not careful the epidemic is going to spiral out of control. Integral to this is that we cannot leave anyone behind and that if we are ever going to get to the end of HIV that this means ensuring that faggots, junkies and whores have access to prevention, treatment, care and support services too.
We need to ensure that Governments fulfil their obligations of funding the HIV response AND that this funding also supports the work that is critical to ensure that no one is left behind.
We need strong, bold, courageous and inspirational leadership from all sectors of society – from people like Robbie, a brilliant young man who is willing and able to use his voice and position to educate, inform and brings about change, to people like Father Michael Kelly who espouses everything that is right and good about a faith based response and has shown us how we can and should respond to people living with HIV and those at the margins of society with empathy, compassion and unconditional love. We need institutions such as Irish Aid to continue promoting and re-enforcing the principles of One World One Future – an excellent and principled framework which sets out Ireland's engagement in global health and HIV by concentrating on the strengthening of systems that reach those most in need. (We have to include community systems as an integral part of resilient systems for health.)
Support efforts to reduce maternal and infant mortality and promote universal access to reproductive healthcare (through the lens of sexual and reproductive health and rights).
To continue investing at various levels with specific emphasis on prevention, addressing inequality and gender-based violence (and ensuring no one is left behind).
(Tick, tock, tick tock.)
One of the hardest challenges of living with HIV for me has not necessarily been anything to do with the "condition" itself, but rather trying to deal with self-stigma.  There was a time when I struggled to look at my face in the mirror. I did not like the person who looked back at me, because in some ways I was what my family, community and faith had defined as bad, sinful and against the will of God. I was a homosexual. I am a homosexual. My punishment according to many was an HIV diagnosis, because in their eyes I was "promiscuous", living a life of sin, a vector of disease.
I was a victim to my circumstance and belief system, I was a victim when at the time that I most needed support from family, community and faith it was withheld, and I felt guilty and ashamed of who and what I was.  What I was living, what I felt and what I saw was only negative. Growing up believing that my homosexuality was dirty, sinful and wrong left a powerful imprint inside me.  It made some part of me an ally of those awful voices who said that my infection with HIV was a judgment upon me – and, a deserved punishment.  This is the devastating, destructive working of internal or self-stigma.
We, as the collective who make up the mosaic of civil society, need to ensure that we confront and challenge stigma wherever it appears.
When I now look in the mirror I am able to look back at the person with a sense of appreciation, gratitude, achievement, and – yes – love. I see someone who is a little older, informed by lived experience and visible through the wrinkles and greying hair. I am getting to that place where I feel proud of who and what I am, and indeed of who I have become. Yes, I still struggle with issues related to self-stigma but I understand them a little more now. I am able to put them into context and find ways of dealing with them, but most important of all I am able to face myself in the mirror and continue contributing to the response to HIV, because it aint over!
(Tick tock, tick tock.)