Hosted by Irish Aid in collaboration with the Irish Forum for Global Health at Limerick University, this year's Lecture helped to mark the 25th World AIDS Day, as both a testament to the dedication and devastation that the HIV/AIDS pandemic has endured in our world.
This annual gathering to reflect on some aspects of the HIV and AIDS epidemic inspires millions of people worldwide to think and talk about what has been the most catastrophic global occurrence in the past 30 years, an epidemic that has taken the lives of more than 25,000,000 people, has shattered the lives of six or eight times that number, has left 16,000,000 children without their parents, caused 1.7 million deaths last year and infects more than 34 million people, a number that continues to increase with as many as 2.5 million new infections in 2011 (almost 5 ever minute)
You can view presentation slides from Father Michael's 2012 address by clicking the image below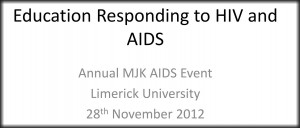 Father Michael's speech at Limerick University can be viewed here:
Highlighting the theme of the 2012 World AIDS Day Lecture Series, Father Michael provoked another brilliant discussion about reducing the impacts of the HIV/AIDS pandemic, moving towards broadening the scope of prevention and treatment, into ultimately an AIDS-free world; meaning zero discrimination, zero AIDS related deaths and zero new HIV infections. Fr. Michael called for a fourth zero:
'Zero fudging of AIDS related issues'
Meaning the avoidance of sensitive issues and ignoring taboo topics associated with HIV/AIDS.
It is far from all over…we've underestimated the challenge of reaching an AIDS-free world.