In a special report featured in the Irish Times on Saturday 1st December, 2007, for World AIDS Day, Graine Faller highlighted Irish Aid's contributions to the struggle against HIV/AIDS in Africa, whilst Christine Bohan examined trends in HIV infection rates which, whilst falling in Africa, were showing alarming signs of increasing in Asia. Please click the image below to download these two fascinating articles.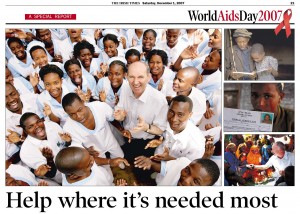 In addition, Mary Fitzgerald discussed with Professor Sheila Tlou the current implementation and effectiveness of growing HIV/AIDS programmes in Botswana, in a stand-out article:
In Botswana the issue [of tackling HIV/AIDS] went beyond words to action that made a real difference. Political will and commitment is key
Christine Bohan also reported on Ireland's Stamp Out Stigma Campaign, started in 2006, which targeted the public with information aiming to give greater understanding of the challenges faced by persons living with HIV. Please click the image below to download the full articles.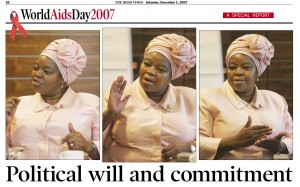 Irish Aid also released a number of eye-catching visual advertisements for World AIDS Day, which you can view by clicking the images below.