At the 2007 World AIDS Day Event, Professor Sheila Dinotshe Tlou, then Minister of Health for the Republic of Botswana, took to the stage to provide an inspiring opening keynote address, relating Botswana's experiences of dealing with child HIV/AIDS. Please click the image below to download Professor Tlou's presentation slides.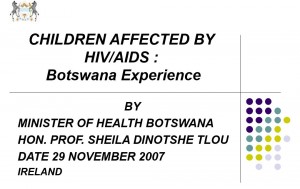 Professor Sheila D. Tlou was the Minister of Health of the Republic of Botswana from 2004-2008. She is a Professor of Nursing at the University of Botswana and former Director of the WHO Collaborating Centre for Nursing and Midwifery Development in Primary Health Care for Anglophone Africa. She conducted research and taught courses to nurses, pre-medical and social science students on Gender issues in HIV/AIDS, Reproductive Health and Rights and Ageing and Older Persons. She has played a key role in the development of numerous national nursing and pre-medical education curricula, working to broaden the scope of Health Sciences education in her home country of Botswana. She has supervised several research projects in Botswana and has just completed projects on intergenerational communication on HIV/AIDS and Community perspectives on mother-to-child transmission of HIV.
Prof. Tlou has worked to increase community awareness of HIV/AIDS in Botswana utilizing peer and youth groups, nongovernmental organizations, and grassroots women's organizations. She is the founder of the Botswana chapter of the Society of Women and AIDS in Africa which has over 2,000 volunteers who are trained in home-based AIDS nursing care and work to educate families on prevention and caring for relatives living with HIV and AIDS.
Prof. Tlou holds a PhD in Nursing Sciences, and Certificates in Women's health and Women's studies from the University of Illinois at Chicago. She completed a Masters degree in Nursing Education and Instruction at Columbia University, and a Master of Science in Nursing at the Catholic University of America. She has published on numerous gender-related topics, including HIV/AIDS, Older Persons, Menopause, and community-based approaches to HIV/AIDS prevention. In 2001, she addressed the United Nations Commission on the Status of Women on 'Women, the Girl Child and HIV/AIDS', and participated as a panelist in side events on Women and HIV/AIDS organized by WHO and UNAIDS at the UN Special General Assembly on AIDS in June.
At the international level, Prof. Tlou has provided consultancy for the World Health Organisation, the International Council of Nurses, the United Nations Commission on the Status of Women, and she sits on the International Community Educator Recruiter meetings for the HVTN (HIV Vaccine Trails Network).
She has received several national and international awards, among them the Florence Nightingale Award from the International Red Cross Society, the Botswana Presidential Order of Honour, and the Anna Reynvaan Awards from the Netherlands. She is also the UN Eminent Person for Women, Girls, and HIV/AIDS in Southern Africa.