Trocaire's 'Facing AIDS' Photo Exhibition
The host event to the 2013 Irish Aid Father Michael Kelly HIV/AIDS Event was the DSA Ireland Conference, "Health and Gender Equity in a Period of Global Crisis". The event also saw the launch of Trocaire's photo exhibition, 'Facing AIDS: The Time is Now'.
This innovative and moving exhibition showcased photography highlighting the stories of a number of women from around the world, and their vulnerability to HIV and gender-based violence. Images and personal stories were featured of women from countries as diverse as Zimbabwe, Honduras, and Ireland.
At every stage in a woman's life, her gender can make her more vulnerable to HIV, while HIV often worsens experiences of gender inequality. Throughout their lives, the responsibility for caring for the sick and dying falls disproportionately to women. But women can also hold vast reserves of strength and compassion. Women are supporting each other to live with HIV and are growing in strength as community leaders and political activists.
Please click the image below to download a pdf of content featured in this thought-provoking exhibition.
---
 The Open Heart House Quilt
To close the event, a representative of Dublin's Open Heart House presented the story of the quilt featured in the image below, sewn by its HIV-positive members, which features positive messages about living with HIV. Now sadly closed, Open Heart House was a centre of warmth, welcome and acceptance, which embraced and supported persons living with HIV and AIDS.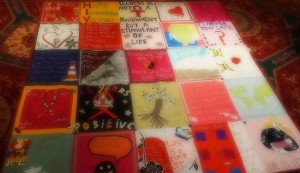 ---
Irish Aid 2013 Father Michael Kelly HIV/AIDS Event Invitation
Please click the image below to view the invitation to the 2013 event: